Kurt Webber Earns $10K for Camp Resilience through Patriots Award

Sydney Green – Laconia Daily Sun – July 20, 2023
"Dedicated," "strong-willed," and "hardworking" are just a few frequent phrases friends and co-workers use to describe Kurt Webber. Webber, co-founder of Patriot Resilient Leader Institute, was recognized June 8 for his community efforts with a $10,000 Myra Kraft Community MVP Award from the New England Patriots Foundation.
Recipients are chosen by a committee based on their demonstration of leadership, dedication and a commitment to improving their communities through volunteering. The award was named in memory of Myra Kraft, wife of Robert Kraft, chief executive officer of the New England Patriots."Myra loved volunteering and positively impacting the lives of others," said Robert Kraft in a press statement about the event. "I am proud that we continue to honor her legacy of volunteerism in association with this award ceremony and love giving people who do so much for so many the recognition of being a Community MVP."
Kimberly Baker, grant writer for PRLI, nominated Webber for the award.
As a 1979 West Point graduate, Operation Iraqi Freedom veteran, retired U.S. Army officer, former chair of the Gilford School Board, past president of the Gilford Rotary Club, and former teacher at Lakes Region Community College, Webber has shown himself to be a worthy recipient of this award through his continued dedication to a life of service and commitment to excellence no matter where he goes.
Webber, alongside a small group of veterans and local citizens, founded the PRLI, which operates as Camp Resilience. He explained that the idea was born near the end of a ski day with a friend of his at Gunstock Mountain Resort.
"Later that day, my friend and I were having a beer and my friend says, 'You know, this is such a beautiful area,' talking about the Lakes Region. 'It would be a great place to do something for veterans,'" said Webber. "That is where the idea started and then I kind of picked up the ball and started contacting some of my friends."
Webber and his friends discussed the idea more at Gilford Rotary to find out what type of program would be most beneficial for veterans. There they found a white paper from the chairman of the Joint Chiefs of Staff regarding community-based programs for veterans."There were a couple of things we got out of that paper that guided the model of our program," said Webber. "There they said that probably the most effective form of therapy for veterans is peer-to-peer counseling; veterans will open up to each other when you get them in a group with other veterans who they feel safe and comfortable with and have shared experiences."
On top of that, the paper also recommended incorporating outdoor sports and activities to reinforce physical wellbeing.
Webber and the other founders made it their mission from the start to serve not only veterans but also first responders. The organization's motto is "helping those who served bounce back and improve in mind, body, and spirit."
The Gilford-based organization holds three- to four-day retreats around the Lakes Region for veterans and first responders; the retreats offer peer-to-peer counseling, life skills workshops and experiential learning, while simultaneously encouraging community engagement. Fast forward to today, Camp Resilience has continued to maintain its mission and has held more than 100 retreats serving over 1,000 people, according to Baker. Baker spoke fondly of her experience so far with Camp Resilience and enjoys witnessing the impact of her work on a daily basis.
"Coming from a first responder background, I've had the opportunity to save lives with my hands," said Baker. "Now, at Camp Resilience I have the opportunity to save lives with my pen."
As PRLI continues to grow, Webber hopes to use the $10,000 to support its expansion, specifically in staffing and number of retreats.
"The money will allow us to grow and expand our program even more," said Webber. "We are in the process of transitioning from a totally volunteer organization to one that is professionally staffed. With a full-time staff, our goal is to go from our current 20 retreats per year to 30 retreats by 2026. However, to do this, we need the money to pay their salaries and fund the retreats and the award will greatly help with that."
---
Patriots celebrate 26 Winners for 2023 Myra Kraft Community MVP Awards
Alexandra Francisco – Patriots.com – June 09, 2023
Throughout New England, individuals of all ages have donated their time and resources for the benefit of their community.
At the 2023 Myra Kraft Community MVP award ceremony at Gillette Stadium on Thursday, the Patriots Foundation and Gillette honored those who go above and beyond.
"This is truly a very special event for our family," said Robert Kraft, addressing the 26 organizations in attendance.
"My beloved late wife Myra and I attended hundreds of team-related events to support the community, but this was always her favorite, and it's become my favorite. She was always touched by the wonderful stories of volunteers and the ways people gave back to the community. To me, she was the ultimate volunteer, so in 2011, we renamed this award after her. I can genuinely say, nothing would be more meaningful to her."
Since its inception, the program has honored more than 475 volunteers and donated more than $3.5 million to the volunteers. Almost 400 applications were submitted for 2023, with the 26 winners making a difference in each of the six states in New England receiving a collective $275,000 to expand their efforts.
Those selected ranged from age 21 to 80 years old, and provide support for causes including education, domestic violence prevention, healthcare, homelessness, mentoring, and the military.
Twenty-five of those volunteers and non-profits received $10,000, with Ann Dagle of the Brian Dagle Foundation earning the grand prize of $25,000.
"We were just honored to be awarded as one of the recipients," said Dagle.
"But then we got the big award, the grand prize — I don't have many words. I'm just speechless, but I am honored and humbled to receive these with all these other wonderful people."
In November of 2011, her 19-year-old son Brian died by suicide.
When she couldn't find a local support group that suited her needs after his passing, she decided to fill that gap in her East Lyme, Connecticut community.
Established in 2014, the Brian Dagle Foundation offers more than 10 support groups with between 60 and 80 people attending each one through referrals from physicians. The organization also provides education and training on suicide awareness and prevention, and Ann receives no salary for her full-time efforts.
"It's just amazing," Dagle said. "We've been doing this for nine years and it's a labor of love. It's in honor of my son, and we wanted to go for this because he loved the Patriots, so this was for Brian."
Here are all 26 recipients of the 2023 Myra Kraft Community MVP Awards:
Tom Baird, Operation Delta Dog
David Britto, Lighthouse Community Development Corporation
Tim Carey, Nativity Preparatory School of Boston
Daniel Cnossen, One Summit, Inc.
Ann Dagle, Brian Dagle Foundation
Amy Doherty, WellStrong, Inc.
Coleen Downs Dinneen, Ellis Early Learning
Bobbi Dynice, The Diaper Bank of Connecticut, Inc.
Jeff Feingold, Hope & Comfort
Susan French, Independence House, Inc.
Tina Gee, Ovations for the Cure
Elizabeth Hukowicz, Meghan's Lights
Nick Hungerford, Elizabeth's Smile
Cynthia Jones, Heroes in Transition
Robert Sam Kelley, Vet to Vet Maine
Fran Latch, Starting Point
Dr. Justin Maykel, UMass Memorial Health
Nancy McDonough, Have A Sammi Kinda Day
Liz Mead, Vermont Adaptive Ski and Sports
Madison Quinn, Strong Little Souls
Tom Richissin, Nationall Braille Press
Chelsey Simoni, HunterSeven Foundation
Peach Warren, Community Harvest Project, Inc.
Kurt Webber, Patriot Resilience Leader Institute
Toby Whitney, Mission of Deeds, Inc.
Regina Wu, Newton Food Pantry
---
100 Retreats, Countless Lives Saved
Gilford Steamer – April 27, 2023
Read the article here.
---
A Green Beret Mission to Build Resilience
Roberta Baker – Laconia Daily Sun – July 25, 2022
BRIDGEWATER — It's a simulated hostage rescue — and a chance to experience what it's like to be a Green Beret, a soldier in the U.S. Army Special Forces.
A girl, bound and gagged, is tied to a chair in the woods beside a captor cradling an imitation machine gun.
Quietly, without cracking a twig, a team of 10 surrounds the pair and exchanges a volley of hand signals. With precision they split into groups. Their leader, with help from his civilian teammates, grabs the fake gun from the dozing guard and seizes the girl. The only sound is the plea of the guard not to shoot. The forest remains silent, except for rustling leaves.
None on this team are soldiers or veterans or rescue specialists. They belong to Granite Forge, a CrossFit gym in Plymouth, and they're at a picturesque farm overlooking Newfound Lake, and their weapons are "rubber duckies" — artificial pistols and machine guns that look and feel like the real thing. It's a dress rehearsal that none will likely experience again in their lifetimes — unless they decide to come back next year.
Thirteen teams from around New England, with roughly 130 members ranging in age from 12 to the late 70s, competed in the second annual Green Beret With A Mission Challenge on July 15. The event benefits Camp Resilience in Gilford, an organization dedicated to improving the mental health of veterans, active military and first responders through outdoor recreation and bonding with peers. It's a heavyweight mission, accomplished though activities that veterans and civilians enjoy.
The Green Beret With A Mission course mimics a sequence of challenging situations encountered in war, including the war on terror, and in many ways resembles a scaled-down version of military training. It helps to love physical challenge, adventure or hiking, and the idea of being a Special Forces unit member for a day. It also doesn't hurt to want to win.
"It's a workout. It's fun. It's energizing. It's good bonding," said Mario Ray, a team member from the New Hampshire Amy National Guard, which won first place in the morning competition.
"It goes to a good cause and we all like physical fitness," said Officer Ryan Garland of the Manchester Police Department, which sent two teams last year.
"It's just under a three-mile course. They're carrying 'rubber duckies' and sandbags" — up to 40 pounds in their backpacks. "It's amazing that people come off that course with a smile," Matt Dubois, executive director of Camp Resilience, a retired U.S. Navy captain and pilot.
It was also an opportunity to educate the general public.
"The idea was to have a challenging but fun event where people would have an opportunity to perform some of the missions Green Berets do in reality," said Kurt Webber, a retired lieutenant colonel, board president and co-founder of Camp Resilience. "It's for fun, camaraderie and a chance to share what we do with the public."
"They can't drop the gun or the backpack on the rope bridge" — or while walking the zig-zag log bridge surrounded by pseudo land mines, said Kim Baker, development coordinator for Camp Resilience and an emergency medical technician at Highland Mountain Bike Park in Northfield. In the end, "It's not about winning. It's about having fun."
The course was part of a three-day challenge organized by Swim with a Mission, which featured Navy Seals competing in swim meets in Newfound Lake. Former Green Berets from as far away as Texas and Tennessee came to lead participants through the Green Beret With A Mission land course that involved crossing rope and log bridges, lugging water jugs, carrying ammunition boxes, performing emergency first aid, hurling fake grenades into makeshift enemy bunkers and transporting wounded soldiers on litters over bumpy, winding terrain.
A production crew from "Small Town, Big Deal," a weekly television show across the country, came to film the event for a Veterans Day special airing in November. "I'm amazed at the degree to which someone can will themselves to complete an insurmountable task," said the camera operator, Tony Hope.
"We're always up for raising money for veterans," said Chelsea Boyd of Plymouth, a member of Granite Forge CrossFit.
"There's no guarantee we're going to succeed. It doesn't matter," said another team member, as they watched their teammate, Ethan Fuller of Derry, shimmy across a rope bridge strung between trees over a ditch intended to resemble as an imaginary river.
"This is how the Army would approach," said Eric Furey, a retired Green Beret "walker" accompanying the team.
"Running between stations was my favorite," said Ian Spencer, 12, a member of Team Operation Detachment Alpha from Keene, a group of young runners, wrestlers and CrossFit enthusiasts. "I think it's a very fun and energizing opportunity for kids."
"I'm getting good exercise and testing my limits," said Silas Runez, 16, from Team ODA in Keene.
"It brings back old times," said Devin Plaskiewicz, the retired Green Beret dad. "I figured I'd give them a challenge so they can work hard and see their limits."
Over 80 volunteers pitched in to hold the event, including members of Gilford Rotary and 25 friends or affiliates of Ladd Farm, where the event occurred. "We host a lot of veterans programs and this is an opportunity to give back," said Brenda Ladd.
Dan Fielding, a Green Beret who used to live in Gilford, designed this experiential fundraising event with Webber. "This is my way to still serve and help my fellow vets. It's for passion, brotherhood, veterans sharing and caring, and making a difference," he said.
According to data from the U.S. Department of Veteran Affairs, over 900,000 military service veterans live in New England, and New Hampshire has more veterans per capita than any other state. Support for veterans is strong.
Webber said that he expects the event will have raised about $70,000 when the proceeds are tallied in coming weeks. Green Beret With A Mission will donate 95 cents of every dollar raised to support veterans causes including Camp Resilience and the Green Beret Foundation, said Baker. This year's sponsors include The Patriot Fund, Grappone Auto, Sig Sauer, and ArborTech in Gilford, who together contributed about $50,000. Team members were encouraged to sign up individual sponsors. Dan McCue of Team Wallace from Massachusetts raised $5,000.
Ongoing importance of Camp Resilience's work
Camp Resilience's programming includes monthly coffee get-togethers for veterans, weekend retreats for victims of military sexual violence and their families, bonding retreats for wounded warrior families, dedicated weekends for active-duty police, fire fighters and EMTs, as well as equine therapy for veterans and military service members who battle mental health challenges as a result of their experiences on the front lines of trauma. There are follow up social media groups for the participants, and some groups stay active online for years.
"We want to create that sense of community and follow it through," said Baker. "We help people rediscover their resiliency. Sometimes it gets buried under experiences, positive and negative. Developing that community of people that speak your same language is critical. Peer to peer counseling is such a fundamental piece," she said. "It's building and supporting that community around you. If I've lost a pediatric patient, I can't sleep. I need to speak with someone who's had that experience."
The healing and sharing creative retreats for military sexual trauma victims have been especially poignant and revealing, Baker said. One participant said, "I heard my best friend get raped in the next tent over. We couldn't stop it. We don't know how to deal with this. We ignored her and ostracized her." The guilt the women carried because they did nothing was enormous, Baker said.  Creativets, a song writing team from Nashville, helped this participant write a song to send to the victim. "It was my way of apologizing for something I should have done 10 years ago," she said.
"When people talk about signs and symptoms, it's the symptoms we can't see. That's what we fix," said Baker. "It's not just fun and games. These are true mental health breaks."
Two recent alumni at a first responder retreat said they had been planning suicide and had a plan in place. "There's no one for us to talk to," they told Baker. "They see horrible things that happen to children. We want to believe first responders are so stoic. They have so much empathy, not a lack of empathy. There's no one we can talk to when we lose someone we're trying to revive."
At one of the last coffee gatherings for veterans at Beans & Greens in Gilford, one veteran explained that he had been put on medication that made him spacey. "I came today because you don't judge me," he said.
In the aftermath of COVID, veterans across the county emerged from a dearth of interaction, and Camp Resilience's value became immediate and profoundly felt. "COVID was hard," said retired Green Beret Furey. "The last thing you want to do is put a veteran closed in in a house."
"We're therapeutic, not therapy," Baker said. "It's that reintegration piece, and it's community building."
---
Camp Resilience Receives Grant Funding from the Disabled Veterans National Foundation.
Gilford, New Hampshire – July 12, 2022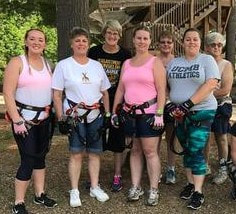 Camp Resilience is pleased to announce a substantial grant award of $16,500, from the Disabled Veterans National Foundation (DVNF) to support Veteran Women's Retreats. Funding from the DVNF generously supports the Veteran Women's Creativity Retreat, October 3-6, 2022, and the Veteran Women's Military Sexual Trauma retreat, November 3– 6, 2022.
Funding from the DVNF will allow Camp Resilience to serve Veteran Women struggling to recover from moral injury and sexual trauma experienced during their military service. This generous grant is expected to significantly impact the lives of more than 25 Veteran Women.
Matt Dubois (US Navy Capt. Ret.), Camp Resilience Executive Director commented, "It takes a village to ensure that our Veterans receive the care and support that they require and deserve. The Veterans Affairs Department challenges each one of us to embrace that charge at a local level. With the help of the Disabled Veteran's National Foundation, Camp Resilience is fortunate to be able to serve our greatest assets. We recognize that Veterans return home to communities, not governments. It is here, where their success is determined. We are grateful to the DVNF to help make that mission a reality for the heroes we serve."
Joseph VanFonda (USMC Sgt.Maj. Ret.), CEO of the Disabled Veterans National Foundation said, "Camp Resilience serves our greatest assets, our veterans. We are very excited to partner with this wonderful organization."
Disabled Veterans National Foundation exists to provide critically needed support to disabled and at-risk veterans who leave the military wounded—physically or psychologically—after defending our safety and our freedom.
DVNF achieves this mission by:
Offering direct financial support to veteran organizations that address the unique needs of veterans, and whose missions align with that of DVNF.
Providing supplemental assistance to homeless and low-income Veterans through the Health & Comfort program and various empowerment resources.
Providing an online resource database that allows Veterans to navigate the complex process of seeking benefits and resources that they are entitled to as a result of their military service.
Serving a think tank on critical policy issues within the Veteran community and educating the public accordingly.
Camp Resilience leverages the scenic outdoors of the New Hampshire Lakes Region to improve the physical, social, mental and emotional well-being of Military Service Members, Veterans and their Families. The organization is committed to offering quality therapeutic retreats at no cost to participants. Camp Resilience facilitates outdoor experiential learning activities, life skills training classes, and peer-to-peer counseling in a fun retreat setting. By bolstering wellness and mental health, retreats inspire the Veteran participants to positively impact their world. Camp Resilience is dedicated to empowering and encouraging each Veteran to rediscover their own unique brand of resiliency.
---
Retired Navy Pilot Takes the Helm at Camp Resilience
Roberta Baker – Laconia Daily Sun – May 27, 2022
Read the article here.
---
Kurt Webber Receives the 2022 Board Impact Award
"Kurt Webber will be celebrated for his service to the veteran and first responder communities as the founder of Patriot Resilient Leader Institute and Camp Resilience, programs which improve social, mental, and emotional well-being at no cost to program participants." NH Center for Nonprofits
---
"It's not necessarily a tough sell" to get people to volunteer, Webber said. There are many people who want to help veterans and others who have served, and the opportunity to take them hiking, kayaking, and other adventures is an attractive proposition."Volunteers needed as Camp Resilience Expands Offerings
---