Who We Are
Primarily a volunteer organization, Patriot Resilient Leader Institute (PRLI) employs two full time and one part time staff members. Our dedicated Board of Directors of veterans and local professionals oversee all operations and programming.
---
Staff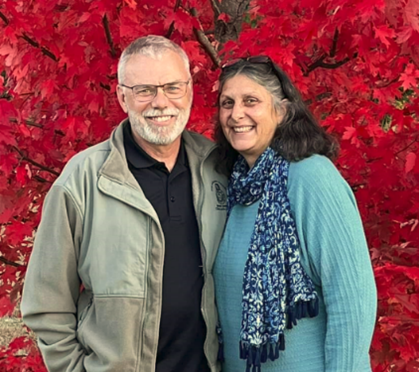 Steve Veinotte
Executive Director
Steve retired from the military in September 2022 after more than 20 years of service, the majority of which was with the NH Army National Guard serving in a full-time capacity as a chaplain. As part of his military duties, he provided training to hundreds of families in the form of weekend retreats focusing on communication skills and functioning as a team. He intervened on a regular basis with service members and their families in crisis, to include situations involving suicidal ideation, substance abuse, homelessness, and a host of behavioral health issues. Prior to becoming Executive Director in October 2022, he served as a volunteer facilitator, introducing family retreats to Camp Resilience. He resides in Campton, NH, with his wife, LeeAnn. LeeAnn is a retired preschool teacher who often assists with children's activities during family retreats. They have two adult daughters, two sons-in-law, three granddaughters and two granddogs.
Todd Holm
Program Director
Todd is retired Chief Boatswain mate from the U.S. Coast Guard with over 20 years of service. He completed 11 different tours of duty at various units ranging from search & rescue, federal law enforcement including customs and border enforcement, fisheries enforcement, counter narcotics, anti-terrorism, counter terrorism, hazmat and weapons of mass destruction response. Todd spent a large portion of his career under different units that made up the Coast Guard's Deployable Operations Group and completed joint deployments, training and work with members of all five service branches. He is a member of the Coast Guard's Combat Veterans Association completing yearlong tours of duty in both Operation Iraqi Freedom and Operation Enduring Freedom (Afghanistan). Prior to his new position at camp resilience, Todd spent five years as a comprehensive financial advisor and registered representative with FINRA. He and his wife Danielle settled in Moultonborough NH in 2021 where they currently reside.
Kimberly Baker
Development Director
Kimberly graduated from Western Michigan University with Bachelor of Science in Practical Writing and a minor in History. She received a Grant Writing certification from Marygrove College in Detroit, Michigan. Kim has been active in the First Responder community in New Hampshire as a National Registry Advanced EMT and a NHEMT-A. She was previously with the Fire Service and volunteers with the Lakes Region Search and Rescue Team. Kim has been involved with National Ski Patrol for fifteen years as a senior skill level patroller, Instructor, and Instructor Trainer. She has been involved directly or indirectly with nonprofits for fifteen years; writing grants, warrant articles, proposals and organizing capital campaign projects and fundraisers. Kim and her husband Craig have raised three sons in the beautiful Lakes Region of New Hampshire, and still proudly call it "home."
Deanna Reed
Administrative Coordinator
Soon after meeting her husband Travis, Deanna was whisked away to travel the country as a military spouse. From New Hampshire to Colorado, then to Florida and back, she enjoys traveling and spends her time off reading and training. She spent 6 years, a deployment, and many training exercises taking care of her two beautiful children, Ronan and Rhea, as well as maintaining the family's residence and finances. While she managed the home, Deanna also worked as an administrative assistant for businesses such as the Bemis School of Art in Colorado Springs and 27 Virtual in Fort Myers, Florida. She is hard-working, fiercely loyal, and driven to provide support for those who have supported this country in the most difficult jobs we have. Deanna is excited to be back in NH, surrounded by friends and family again.
---
Board of Directors
---
Board of Advisors